Fullerene C60 CAS99685-96-8
Wuhan Hengheda Pharm Co.,Ltd

China

Immediately after payment

5kg/month
Fullerene C60 has a special spherical configuration, fullerene C60 is the best round of all the molecules. Fullerene C60 has sea of advantages that useful for reinforced metal, new catalyst, gas storage, manufacturing optical material, manufacturing bioactive materials and so on.

Fullerene C60 is very hopefully to translate into a new abrasive material with high hardness as a result of C60 molecules'special shape and strong ability to resist external pressures. Besides, it is because using C60 films to do with the matrix material, which can be made into dentate combination of capacitors.

The chemical sensors made by fullerene C60 have superiorities with smaller sizes, simple, renewable and lower price.
Also, fullerenes C60 has memory function, which can be used as memory materials.
Fullerene C60 CAS99685-96-8
Fullerene c60 powder CARBON CLUSTER C60 cas 99685-96-8 FOOTBALLENE 99.9%
Product Name: Fullerene

Purity: 99.9%
CAS No.: 99685-96-8
Appearance: Black powder
M.W.: 720.64
M.F.: C60
Fullerene C60 can be used for the sensor to detect TNT to meet the needs of counter-terrorism; The three-dimensional highly delocalized electron conjugated molecular structure makes C60 have excellent optical and nonlinear optical properties, which is expected to use in such optical computing, optical memories, optical signal processing and controlling applications respects; In addition, C60 and its derivatives can be widely used in magnetic resonance imaging, anti-HIV drugs,anti-cancer drugs, chemotherapy drugs, cosmetic additives, research and other areas.
1. Diagnostic reagents,
2. Super drugs,
3. Cosmetics,
4. Solar battery,
5. Wear resistant material,
6. Flame retardant materials,
7. Lubricants, polymer additives,
8. Artificial diamond, hard alloy,
9. Electric viscous fluid,
10. Fire retardant coatings,
11. Semiconductor record medium,
12. Superconducting materials,
13. Transistors,
14. Electronic camera, fluorescence display tube,
15. Gas adsorption, gas storage.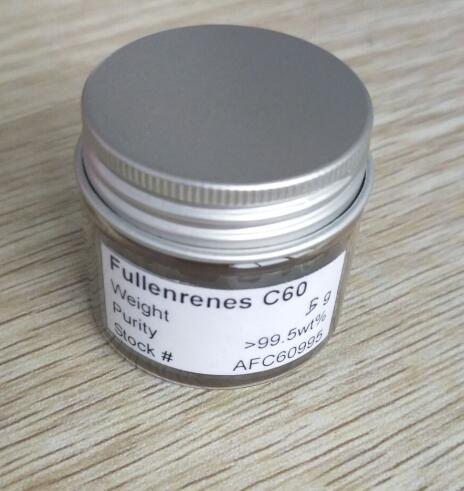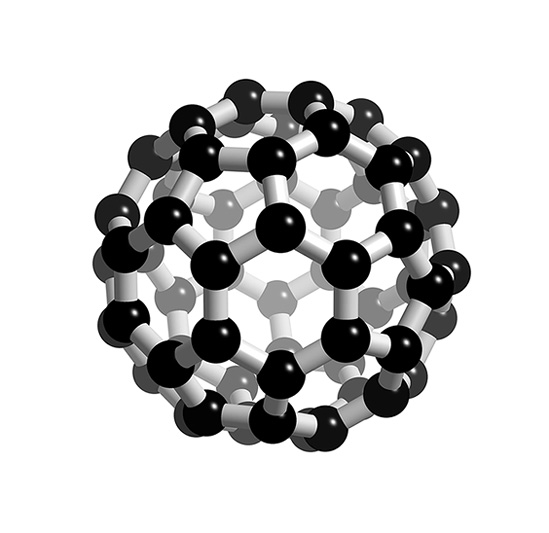 Every batch of our product was tested by authorized independent third party, Analysis testing center, Shanghai branch, Chinese Academy of Science. We send goods to customers with test report and COA. Our products were also tested by American Analytical Chemistry Laboratories and Chromadex too.
...more