Cepharanthine CAS 481-49-2 Standard Sample For Research
HHD

WuHan

within 3-5 working days

1-3kg per month
Stephania japonica is a climbing plant producing slender stems, that can become slightly woody when old, from a woody rootstock.

The leaves are sometimes harvested from the wild for medicinal purposes and to make a jelly.
Cepharanthine CAS 481-49-2 Standard Sample For Research
Chemical Properties of Cepharanthine
Molecular Structure: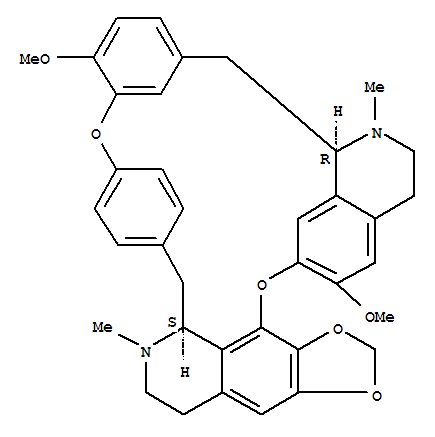 Cas No.
481-49-2
COA

Available
PubChem ID

10206

Appearance

Powder

Formula
C37H38N2O6
M.Wt

606.71

Type of Compound

Alkaloids

Storage
Desiccate at -20°C
Solubility
>21.9mg/mL in DMSO
SMILES
CN1CCC2=CC3=C(C4=C2C1CC5=CC=C(C=C5)OC6=C(C=CC(=C6)CC7C8=CC(=C(C=C8CCN7C)OC)O4)OC)OCO3
Standard InChIKey
YVPXVXANRNDGTA-WDYNHAJCSA-N
Standard InChI
InChI=1S/C37H38N2O6/c1-38-13-11-24-18-31(41-4)33-20-27(24)28(38)16-23-7-10-30(40-3)32(17-23)44-26-8-5-22(6-9-26)15-29-35-25(12-14-39(29)2)19-34-36(37(35)45-33)43-21-42-34/h5-10,17-20,28-29H,11-16,21H2,1-4H3/t28-,29+/m1/s1
General tips
For obtaining a higher solubility , please warm the tube at 37 ℃ and shake it in the ultrasonic bath for a while.Stock solution can be stored below -20℃ for several months.
We recommend that you prepare and use the solution on the same day. However, if the test schedule requires, the stock solutions can be prepared in advance, and the stock solution must be sealed and stored below -20℃. In general, the stock solution can be kept for several months.
Before use, we recommend that you leave the vial at room temperature for at least an hour before opening it.
About Packaging
1. The packaging of the product may be reversed during transportation, cause the high purity compounds to adhere to the neck or cap of the vial.Take the vail out of its packaging and shake gently until the compounds fall to the bottom of the vial.
2. For liquid products, please centrifuge at 500xg to gather the liquid to the bottom of the vial.
3. Try to avoid loss or contamination during the experiment.
Cepharanthin is extracted from the roots of endemic plant in Yunnan province, Stephania japonica (Thunb.) Miers.. Cepharanthine can increase the number of peripheral blood leukocytes and promote bone marrow tissue hyperplasia, being mainly used to cure leukocytes decreasing and lacking caused by cancer chemotherapy and other factors. Now it is used in the treatment of thrombocytopenic purpura. It is convenient to dose for inhibition of pulmonary fibrosis without significant adverse reactions.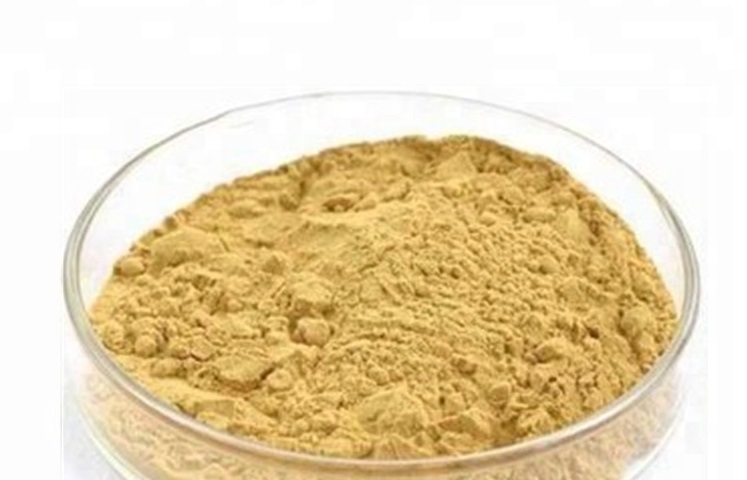 What`s the benefits of Cepharanthin?
1.Promoting bone marrow tissue hyperplasia
2.Treating leukocytes decrease and lack caused by cancer chemotherapy and other factors
3.Used for treating thrombocytopenic purpura
4.Used for inhibiting pulmonary fibrosis without significant adverse reactions.
Every batch of our product was tested by authorized independent third party, Analysis testing center, Shanghai branch, Chinese Academy of Science. We send goods to customers with test report and COA. Our products were also tested by American Analytical Chemistry Laboratories and Chromadex too.
...more