Citicoline sodium CAS 33818-15-4 Brain Enhancement
HHD

Wuhan, China

IN STOCK

100kg/month
Bulk supply Citicoline sodium.
Samples offer
Fast delivery of nootropics Citicoline sodium!


| | |
| --- | --- |
| Product Name | Citicoline sodium |
| Other names | Cytidine 5′-diphosphocholine sodium salt dihydrate |
| CAS No. | 33818-15-4 |
| Appearance | White powders |
| Purity | 98% |
| Storage | At room temperature |
| MF | C14H27N4NaO11P2 |
| Shelf Life | 2 years |
| Solubility | Soluble in water (100 mg/ml) |
| Grade | Food Grade |

Citicoline is a nutritional supplement and source of choline and cytidine with potential neuroprotective and nootropic activity. Citicoline, also known as cytidine-5-diphosphocholine or CDP-choline, is hydrolyzed into cytidine and choline in the intestine. Following absorption, both cytidine and choline are dispersed, utilized in various biosynthesis pathways, and cross the blood-brain barrier for resynthesis into citicoline in the brain, which is the rate-limiting product in the synthesis of phosphatidylcholine. This agent also increases acetylcholine (Ach), norepinephrine (NE) and dopamine levels in the central nervous system (CNS). In addition, citicoline is involved in the preservation of sphingomyelin and cardiolipin and the restoration of Na+/K+-ATPase activity. Citicoline also increases glutathione synthesis and glutathione reductase activity, and exerts antiapoptotic effects.
Citicoline is a water soluble compound that is an essential intermediary in the synthesis of phosphatidylcholine, citicoline was first developed in Japan, used to help people who had suffered a specific type of stroke to better recover. It was also noted that this supplement has shown promise for helping patients who are suffering from glaucoma. It appears capable of nourishing nerves as well as improving blood circulation within the brain. (HHDPHARM)

1.Citicoline Sodium is a brain chemical that occurs naturally in the body.

2. Citicoline Sodium is taken by mouth as a supplement or given by IV or as a shot.

3.Citicoline Sodium is used for Alzheimer's disease and other types of dementia, head trauma, cerebrovascular disease such as stroke, age-related memory loss,Parkinson's disease, and glaucoma.

4.The main indications of Citicoline Sodium are acute traumatic brain injury and brain consciousness after the operation.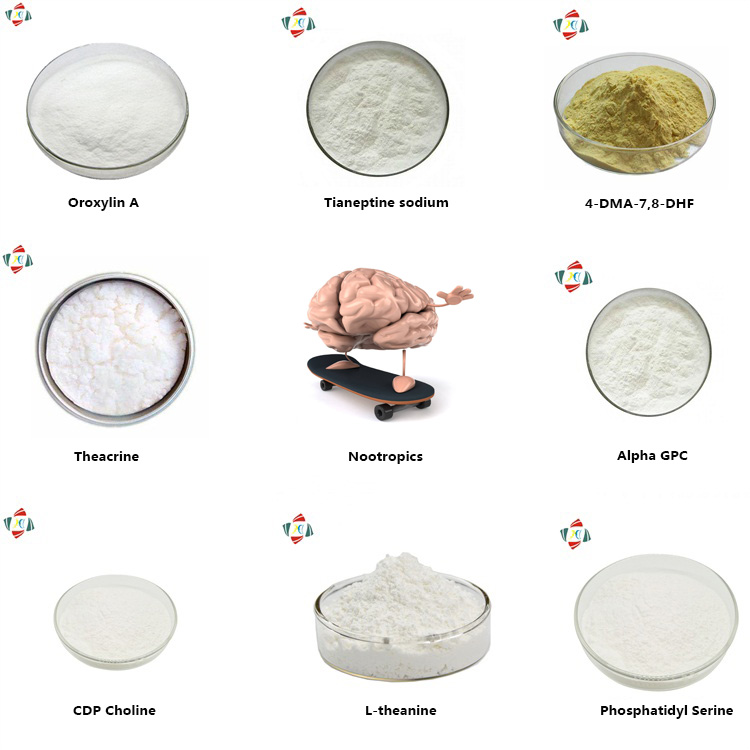 Every batch of our product was tested by authorized independent third party, Analysis testing center, Shanghai branch, Chinese Academy of Science. We send goods to customers with test report and COA. Our products were also tested by American Analytical Chemistry Laboratories and Chromadex too.
...more