Natural Rosemary Extract Powder Rosmarinic Acid 20283-92-5
HHD

China

IN STOCK

100kg/month
1.High Purity Cosmetic Raw Materials Rosemary Extract Rosmarinic acid/Rosmarinic acid Powder

2. Natural Rosmarinic Acid 5%-95% Rosemary Leaf Extract Powder

3. 98% Rosmarinic acid


| | |
| --- | --- |
| Product Name | Rosmarinic acid |
| CAS No. | 20283-92-5 |
| Color | white to faintly beige |
| Appearance | fine powders |
| Storage | at room temperature |
| MF | C18H16O8 |
| Shelf Life | two years |
| Purity | 5%; 10% ; 20% ,98% |
| Grade | Pharmaceutical Grade; Cosmetic Grade |

Rosmarinic acid is a water-soluble natural phenolic acid compound isolated from rosemary, a plant of the Lamiaceae. Among a variety of plants in the Umbelliferae family, the highest content is especially in the Lamiaceae and Boraginaceae. Rosmarinic acid is a natural antioxidant with strong antioxidant activity. Its antioxidant activity is stronger than vitamin E, caffeic acid, chlorogenic acid, folic acid, etc. It helps prevent cell damage caused by free radicals. Thus reducing the risk of cancer and arteriosclerosis.
Rosmarinic acid has broad-spectrum antimicrobial activity and has inhibitory effects on bacteria and fungi.
Rosmarinic acid has a significant inhibitory effect on bacteria such as Bacillus subtilis, Micrococcus luteus, Escherichia coli, Staphylococcus aureus and
Rosmarinic acid has a certain effect on the permeability of the bacterial cell membrane, protein metabolism and DNA replication, thus exerting its antibacterial effect.
Rosmarinic acid has a very strong activity of scavenging free radicals in the body and antioxidant effect.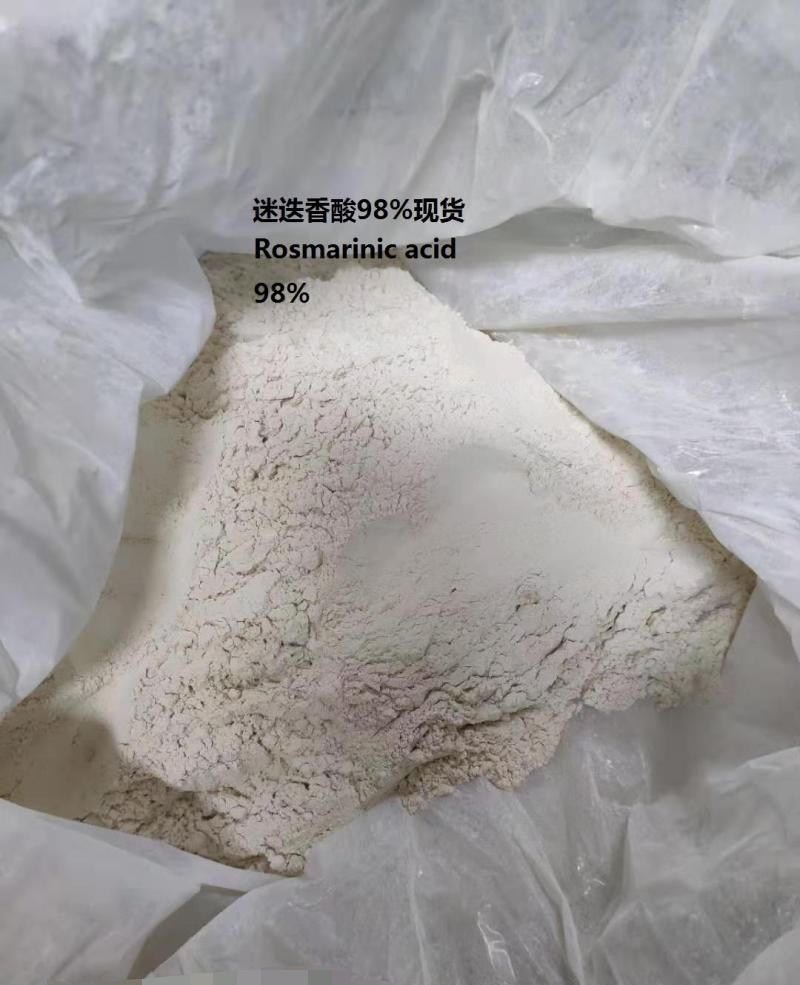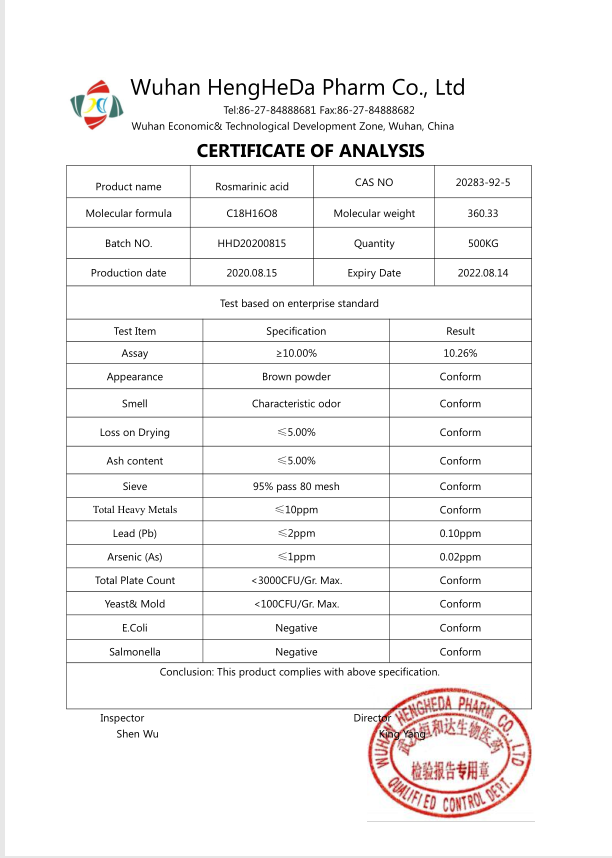 1. Food field: Rosmarinic acid is used as a natural high-efficiency antioxidant, which can replace BHA and BHT in animal and vegetable fats, dairy products, oil-rich foods, candies and baked foods; it can also be used as a spice in various soups And seasoning food.
2. The field of health care products: Anti-tumor, anti-hepatitis and protection of liver damage, anti-nephritis, anti-thrombosis and anti-platelet aggregation effects, etc.
3. Cosmetics field: Used in skin care products, it can dispel pigmentation, anti-oxidation, increase skin elasticity, delay aging, etc.
Every batch of our product was tested by authorized independent third party, Analysis testing center, Shanghai branch, Chinese Academy of Science. We send goods to customers with test report and COA. Our products were also tested by American Analytical Chemistry Laboratories and Chromadex too.
...more