Xanthohumol CAS 6754-58-1 Standard Sample For Research
HHD

WuHan

within 3-5 working days

100-200kg per month
Xanthohumol (Xn) is a Bioactive Flavanoid Antioxidant molecule found in the flowering Hops Plant. It is 200 times more powerful than Resveratrol, the world renowned Antioxidant found naturally in Red Wine.

The health benefits of Xanthohumol have been known for years, and in more than 200 research studies, it has been linked to a wide range of potential benefits.
Xanthohumol CAS 6754-58-1 Standard Sample For Research
Product Description
1)Product name: beer hops extract powder
2)Latin Name:beer hops extract
3)Specification: total flavones 5% 10% by HPLC
4)Extraction Type: Solvent Extraction .
5)Appearance: brownish yellowFine Powder
6)Test method: HPLC
7)Introduction:
Hops, known botanically as Humulus lupulus, is a plant commonly known for its use in the beer brewing industry. However, hops extracts are also used in herbal medicine. Hops have a history of use in China to treat leprosy and tuberculosis, according to Purdue University. Today, hops extract is marketed as a sleep aid and for reproductive health. As with all herbal medicine, consult your doctor before taking hops extract.
Hops can also help to stimulate appetite, dispel flatulence, and relieve intestinal cramps.This herb can be usefully combined with valerian for coughs and nervous spasmodic conditions.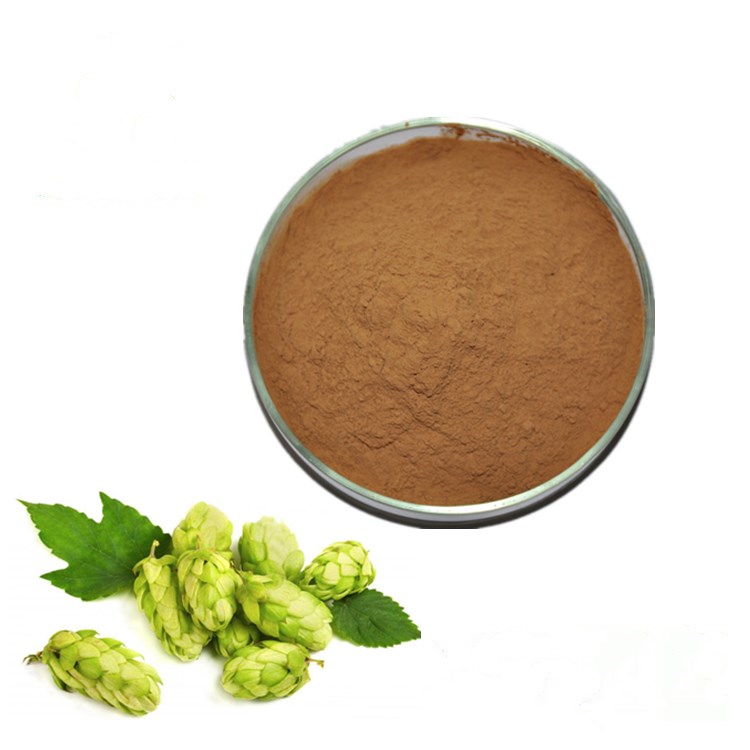 Item

Specification

Test result

Xanthohumol

≥5.0%

5.03% HPLC

Physical Control

Appearance

Brown yellow Powder

Conforms

Odor

Characteristic

Conforms

Taste

Characteristic

Conforms

Part Used

Flower

Conforms

Extract Solvent

Water & Ethanol

Conforms

Loss on Drying

≤5.0%

Conforms

Ash

≤5.0%

Conforms

Particle size

95% pass 80 mesh

Conforms

Allergens

None

Conforms

Chemical Control

Heavy metals

NMT 10ppm

Conforms

Arsenic

NMT 1ppm

Conforms

Lead

NMT 3ppm

Conforms

Cadmium

NMT 1ppm

Conforms

Mercury

NMT 0.1ppm

Conforms

GMO Status

GMO Free

Conforms

Microbiological Control

Total Plate Count

10,000cfu/g Max

Conforms

Yeast & Mold

1,000cfu/g Max

Conforms

E.Coli

Negative

Negative

Salmonella

Negative

Negative
In vitro studies have confirmed Xanthohumol's inhibiting effect on:
Inflammatory processes

Arteriosclerosis

Osteoporsis

Diabetes

And more than sixty types of Cancer occurring in Humans, including: Leukemia, Lung Cancer, Colon Cancer, Breast Cancer, Prostate Cancer, and a multitude of other Cancer types
In addition Xanthohumol:
Helps Support cell health to fight oxidative stress

Helps Regulate Fat metabolism and storage

Helps Modulate Cholesterol and Triglyceride levels

Helps Promote general health to ward off illness

Helps Maintain Glucose and Insulin levels

Helps Protect against Free Radicals better than green tea and red wine, with 6 times the power of Antioxidant-rich citrus fruits and 4 times the strength of soy foods, also high in Antioxidants.
Every batch of our product was tested by authorized independent third party, Analysis testing center, Shanghai branch, Chinese Academy of Science. We send goods to customers with test report and COA. Our products were also tested by American Analytical Chemistry Laboratories and Chromadex too.
...more