98% Ecdysone Extract Powder Hydroxyecdysone CAS 5289-74-7
HHD

WuHan

within 3-5 working days

100-200kg per month
Beta Ecdysterone is a plant sterol (phytosterol) which recently became very popular as body building and muscle building supplement due to its ability to increase protein synthesis, which translates to more muscle mass!
Also known as: ecdisten, ecdysone, isoinokosterone, 20-hydroxyecdysone and ecdysterone
Beta Ecdysterone (20 Hydroxyecdysterone) is an anabolic plant sterol and is non androgenic. This makes Beta ecdysterone perfect for building lean muscle tissue with no known negative side effects.
Ecdysterone provides an environment that is conducive to muscle building by maintaining a positive nitrogen balance and causing an increase in protein synthesis.
Indirubin CAS 479-41-4 Standard Sample For Research
20-Hydroxyecdysone (ecdysterone or 20E) is a naturally occurring ecdysteroid hormone which controls the ecdysis (moulting) and metamorphosis of arthropods. It is therefore one of the most common moulting hormones in insects, crabs, etc. It is also a phytoecdysteroid produced by various plants, including Cyanotis vaga, where its purpose is presumably to disrupt the development and reproduction of insect pests. In arthropods, 20-hydroxyecdysone acts through the ecdysone receptor. Although mammals lack this receptor, 20-hydroxyecdysone may affect mammalian (including human) biological systems in vitro, but there is uncertainty whether any in vivo or physiological effects occur. 20-Hydroxyecdysone is an ingredient of some supplements that aim to enhance physical performance, but there is no clinical evidence for this effect.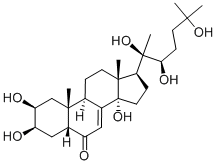 Product Name:Hydroxyecdysone

CAS:5289-74-7

Molecular Formula:C27H44O7

Molecular Weight:480.63

EINECS:811-097-1
Function:
• Increase in Endurane
• Stimulates Metabolism
• Helps to Stabilize Blood Sugar Levels
• Helps to Reduce Adipose Tissue (fat) in the body
• Increases efficiency of most functions in the body
• It's Safe for Men and Women
• Prevents Loss of Muscle Mass while Promoting Growth of Muscle Fibers
• It does all this with no known side effects, making it a completely safe supplement.
• No Negative Side Effects.
• Does not Convert to Estrogenic Compounds.
• No Liver Toxicity
• Does not cause increased Blood Pressure
Every batch of our product was tested by authorized independent third party, Analysis testing center, Shanghai branch, Chinese Academy of Science. We send goods to customers with test report and COA. Our products were also tested by American Analytical Chemistry Laboratories and Chromadex too.
...more