100% Natural 10-98% Icariin Epimedium Leaf Extract Powder
HHD

WuHan

within 3-5 working days

100-200kg per month
Epimedium,also called horny goat weed, grows as an ornamental herb in Asia and the Mediterranean. In Asia, its leaves have been used for treating fatigue and boosting sex drive for a long history since 16th century. Nowadays, the plant is a traditional chinese medicine and is widely used as dietary supplement in western countries


Epimedium, also known as Horny Goat Weed, or Yin Yang Huo, is a genus of about 60 or more species of herbaceous flowering plants in the family Berberidaceae. The large majority are endemic to southern China, with further outposts in Europe, and central, southern and eastern Asia. Usually make the Epimedium brevicornum and epimedium sagittatum as the raw material because of their high quality.
100% Natural 10-98% Icariin Epimedium Leaf Extract Powder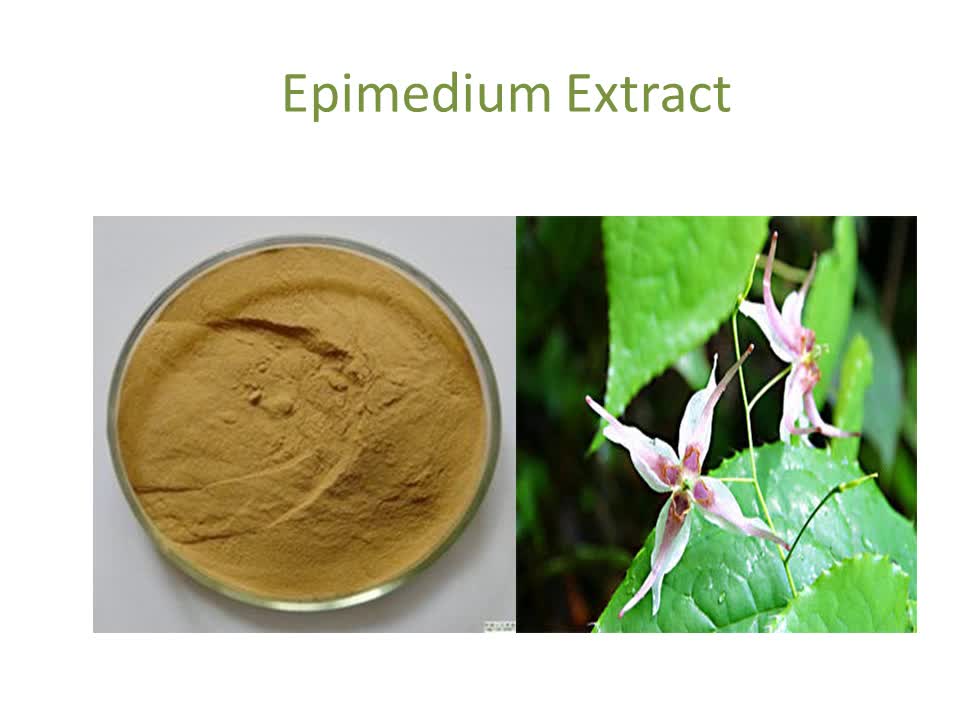 Product name: Icariin
Latin name: Epimedium grandiflorum L.
Extract Source: leaf
Specifications: 5% - 98% test by HPLC
Appearance: Brown Powder
Molecular Formula: C33H40O15
Molecular Weight: 676.66
CAS No: 489-32-7
What`s the main function of Icariin/Epimedium extract?
1. Epimedium extract is used to treat hypotension and osteoporosis;
2. Epimedium extract is anti-aging, anti-bacterial, anti-virus and anti-inflammatory;
3. Epimedium extract improves the immune system and cardiovascular system, promotes vas odilation;
4. Epimedium extract strengthens sexual function, stimulates androgen hormones, and activates sensory nerve.
What`s the main function of Icariin/Epimedium extract?
1. Applied in pharmaceutical field, epimedium extract is mainly used as a pharmaceutical materail to treat asthenia of kidney, impotence, spermatorrhea, prospermia, cold extremities, acroanesthesia or convulsion, etc;
2. Applied in health care products, epimedium extract is used in capsules, health food, oral liquid, health care wine and other alcoholic beverages, which has good healthcare effect on human cardiovascular and endocrine system, delaying aging.
Every batch of our product was tested by authorized independent third party, Analysis testing center, Shanghai branch, Chinese Academy of Science. We send goods to customers with test report and COA. Our products were also tested by American Analytical Chemistry Laboratories and Chromadex too.
...more